PDR as it more commonly known, is a form of art. Special sheet metal sculptors recreate dents into the original form with special hand tools, heat and special LED lights.
It is amazing to watch and you would think paint would crack or metal would stretch, but these artisans of the metal skin are akin to a marble sculptor.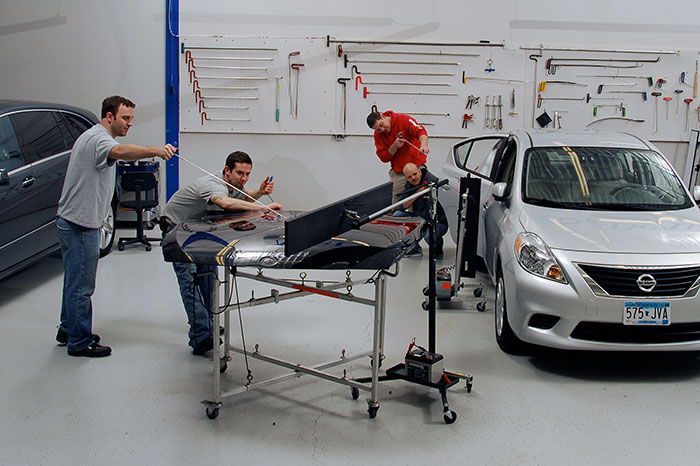 With the car business booming there is a severe shortage of quality auto repair staff, and PDR is at the top with many seeing over $125/ hour or more.
PDR takes just a few weeks to learn and with a little more practice one can attack the car market with skills and fervor. An average PDR Technician services dealers, rental car agencies and the overall public,. all with great opportunity. The work is clean, simple and almost zero overhead. And it's healthy and environmentally conscious too.
An experienced Paintless Dent Repair tech can work just 6-7 hours a day and 4-5 days a week and make a great full time income.
Here is a recent review from two students who can to California from Taiwan to learn PDR:
Lee and Tim came out to learn PDR and chose SAI due to our comprehensive hands on PDR Training conducted on trucks, SUV's, luxury vehicles, aluminum doors and training inside and outside in all reading circumstances. They wanted as much hands on experience they could get so they could return back to Taipei with enough experience so their studio would be well staffed and prepared for the customers already waiting for them.
The PDR Training started off in the SAI War Room where all PDR Essentials start, and then the PDR training continued outdoors on customer cars. They repaired all different types of dents and dings from creases, bodyline dents, hail dents, braced dents, sharp dent and oversized large dents. They wrapped up learning PDR on over 10 vehicles and returned back home with skills to attack their customer cars immediately instead of waiting to practice months like most schools require.

Lee and Tim's experience is not unique. This is the average success of all of our PDR students coming out of the Superior Auto Institute. People come to learn Paintless Dent removal training from around the world and often return home ready to start pushing sheetmetal and making a great income.
For more information contact Superior Auto Institute at 1-888-274-6088